Princess.ico

Published on May 18th 2014 by cdl.
Released under the Custom (contact author) license.
Icon for Windows XP, Vista and 7.
The princess icon design is more demure with just two gold rings, the center ring being a cutout seven petaled cutout flower.
Images in the icon
To download individual pictures from the icon, right-click on the image and select "Save image as..." in the menu.

16x16 pixels, smooth edges

16x16 pixels, 256 colors

16x16 pixels, 16 colors

24x24 pixels, smooth edges

24x24 pixels, 256 colors

24x24 pixels, 16 colors

32x32 pixels, smooth edges

32x32 pixels, 256 colors

32x32 pixels, 16 colors

48x48 pixels, smooth edges

48x48 pixels, 256 colors

48x48 pixels, 16 colors

64x64 pixels, smooth edges

64x64 pixels, 256 colors

64x64 pixels, 16 colors

128x128 pixels, smooth edges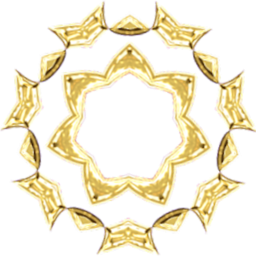 256x256 pixels, smooth edges
Resources