HSpin-[Purple]!.ico

Published on July 18th 2012 by AmberZen.
Released under the Release to Public Domain license.
Icon for Windows XP, Vista and 7.
My Heart's In A Whirl! You Spin Me Right Round Baby! Colorful 3d heart with both solid and patterned raised border and spinning black design. ♥ Please Rate this set donated to the Public Domain! ♥
Images in the icon
To download individual pictures from the icon, right-click on the image and select "Save image as..." in the menu.

16x16 pixels, smooth edges

32x32 pixels, smooth edges

48x48 pixels, smooth edges

128x128 pixels, smooth edges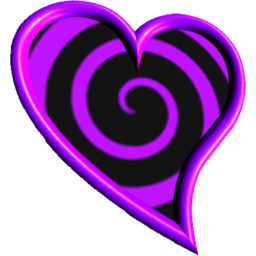 256x256 pixels, smooth edges
Resources