Chocolate Raspberry Cake.ico

Published on April 13th 2013 by cdl.
Released under the Attribution+NonCommercial (CC by-nc) license.
Icon for Windows XP, Vista and 7.
This chocolate fudge cake is decorated with raspberry and dark fudge ice creams, whipped cream dollops, cookie sticks, candy sprinkles, and beautiful purple flowers.
Images in the icon
To download individual pictures from the icon, right-click on the image and select "Save image as..." in the menu.

16x16 pixels, smooth edges

16x16 pixels, 256 colors

16x16 pixels, 16 colors

24x24 pixels, smooth edges

24x24 pixels, 256 colors

24x24 pixels, 16 colors

32x32 pixels, smooth edges

32x32 pixels, 256 colors
32x32 pixels, 16 colors

48x48 pixels, smooth edges

48x48 pixels, 256 colors

48x48 pixels, 16 colors

64x64 pixels, smooth edges

64x64 pixels, 256 colors

64x64 pixels, 16 colors

128x128 pixels, smooth edges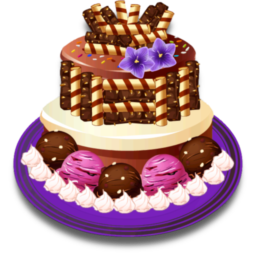 256x256 pixels, smooth edges
Resources